A ringmaster's search for a real life monster sends him down a dark path. || Third Year Student Film
DO YOU DARE TO SEE IT?
George, a fame obsessed ringmaster, becomes increasingly disappointed with audience turnout. When he decides that what he needs is a real life monster to get people's attention, he sends himself and his troupe down a dark path of murder, betrayal, and deliria.
The Circus of Fear is a third year student short film, inspired largely by 20s and 70s horror classics. We are aiming to make an atmospheric, stylized, and experimental film, and we need your help to do it!
MEET THE TROUPE
Liam M. Kelleher - Director, Scriptwriter, Producer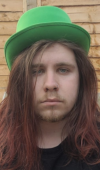 Hey, I'm Liam and I am extremely excited to be working on this project alongside the rest of my crew members. I have been studying Film and performing arts for the past 6 years and am excited to use the knowledge I have gained into making a fun and interesting short film for people to enjoy watching. I have taken the roles of director, producer, and scriptwriter so I have had a lot of influence on the creation of this ambitious project. My main goal when creating entertainment for people is that it is entertaining and fun to watch while also making audiences think and reflect back on the messages behind what they have witnessed.
Emir Anday - Co-Director, Visual Design and Concept Art, Editor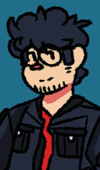 Hi all! I'm Emir, and I'm helping Liam direct the film, as well as doing concept art, storyboards and some more visual design. I do game development, graphic design, and digital art as a hobby. I also made the thumbnail for the crowdfunding page. I hope you like it! You can check out more of my works here.
I'm a huge film nerd, horror and animation being my favorite two genres (so Coraline is my obvious favorite movie of all time) and I'm excited to be part of my first horror film, and I hope to help deliver something you will all enjoy watching!
Sandra Klosowska - Producer, Costume Design, Make-Up, Co-Editing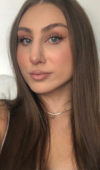 My name is Sandra Klosowska and I've had a huge interest in film for years, since Peter Jackson's The Hobbit came out, I was fascinated how the trilogy was made and extremely intrigued by the context of production in these amazing films. That's where my passion for editing comes in, I started with photo editing such as blending scenes together, adding a filter and text (making sure it's also HD) – and I began making fan videos of The Hobbit, Game of Thrones, and YouTubers. I was always interested in making adverts/trailers, for me being a visual designer is important as each story has its own aesthetics. Some of my work can be seen on Youtube, And my photo edits can be found on Instagram: @windofwinters.
Grace Marks - Lighting
Hi, I'm Grace, and I'm doing lighting for the film.
THE PRICE OF ADMISSION
Here's what your money will go to when you donate to the project.
Props, set design, make-up and prosthetics, and costumes.
An original soundtrack.
A short playable teaser for the film in which you can explore the circus for yourself.
Expenses for the cast and crew.
Locations and travel.
FEAST YOUR EYES
Here's some of our visual concepts for the film so far!