The tragic story of Evelyn McHale's immortalisation through the lens of a photographer
Our film
Our film follows the story of Evelyn McHale, a suburban housewife who becomes overwhelmed with the complexities and expectations of being a woman during the 1940s. The tragic story of her life and death are not as unbearable as the immortalisation of her through the lens of the voyeurs who exploit her tragedy and reduce her to beauty. 
Who are we?
We are third year students at the University of Reading and our roles in the film are:
Emily Heighton - Director
Callum Mitchell - Producer
Ailish Pinkman - Scriptwriter
Nick Papadopoulos - Cinematographer
Filippo Pellegrino - Art Director
The planning that has gone into our project thus far has been challenging but nonetheless an invaluable experience for each of us.
Our story
Evelyn McHale's story has been one that has not been properly told. However, the image of her death has become iconic and used by many for many different purposes since. Her story is full of interest and intrigue as she attempted to alter what it meant to be a woman in 1940s New York. We wish to do her justice and tell her story in the way that she would have wanted. 
The money that we raise will allow us to present Evelyn's story in the most beautiful and artistic way we, as creatives, can imagine. This, we believe, is deserved as Evelyn McHale has influenced so much and yet gained so little. 
Where will the money go?
The money that we raise from crowdfunding will be used on improving our project. This will range from props to travel costs and even hiring better venues to shoot scenes in. Thus, allowing us to film better shots with a higher production value.
One of the areas that we would like to invest money in is the venue for where the film will be premiered. Provided we raise enough funds, we would like to premiere the film at the Reading Biscuit Factory as this is capable of hosting a large number of people. We believe Evelyn's story is one that people should watch and appreciate to the fullest and so a brilliant venue to host this special occasion is very appropriate. Furthermore, as this is our final year at the University of Reading, a final celebration of all that we have accomplished during our time here would be especially heart warming. 
The money you donate can also be used to pay for hotel rooms if we are doing an overnight shoot in a different city or to pay for professional make-up artists. 
With your help we can create a fantastic film that portrays the story of Evelyn McHale in the best way possible. The more money we raise, the better the production of the film. 
Any extra funds that we raise can be used on reducing the price of tickets at our film premiere so donating helps everyone involved from the crew all the way to the audience. Therefore, the donations will likely benefit you, also.
Our poster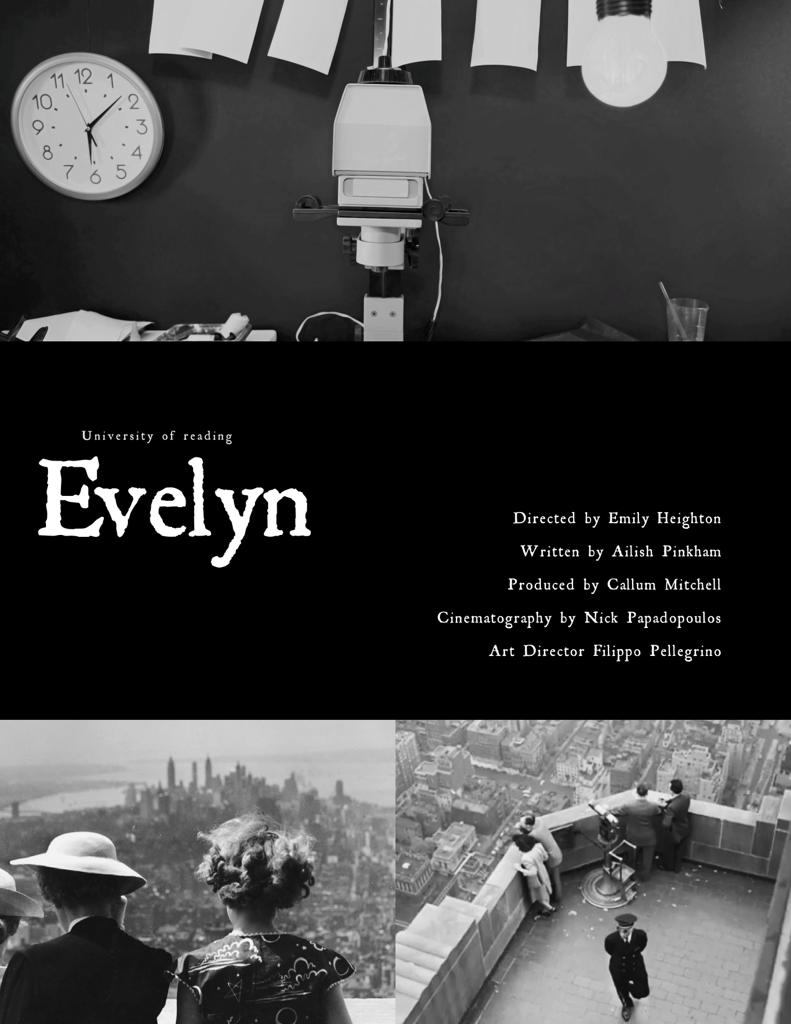 Find us here
You can follow the progress of the film on Instagram at @evelyn_shortfilm
We shall be giving regular updates on the progress of the film. You can also view the casting calls to get an idea of the type of characters that shall be featuring in our film. 
Help us succeed!
We would all massively appreciate any help that you can provide for our project. Please feel free to share our project on your social media platforms such as Twitter, Facebook and LinkedIn. Even a simple text to a friend about our project will go a long way!
The key to our success is not just money. Any recognition and publicity of our project will go a long way in helping us reach our end goal.
Money is not everything but it is still important to our project so please donate. We will match donations above £5 with a prize. The more money you donate, the bigger the prize and these range from a copy of the poster to a free ticket to the premiere! 
Thank you for reading. We hope you enjoy our film!